The hot tweezer is designed for stripping triple insulated wire, magnet wire, teflon etc.

Temperature is adjustable, stripping temperature ranging from 130oC to 860oC.

Switchable HI/LO power output to control the stripping head temperature.

Featured of new type power supply, safety performance and longer stripping head life.

One tweezer includes several stripping hole, suitable for various wire diameter.

Three types of hot tweezers for option, suitable for different wire size range.

The filaments are an integral part of the stripper body, no maintenance is required.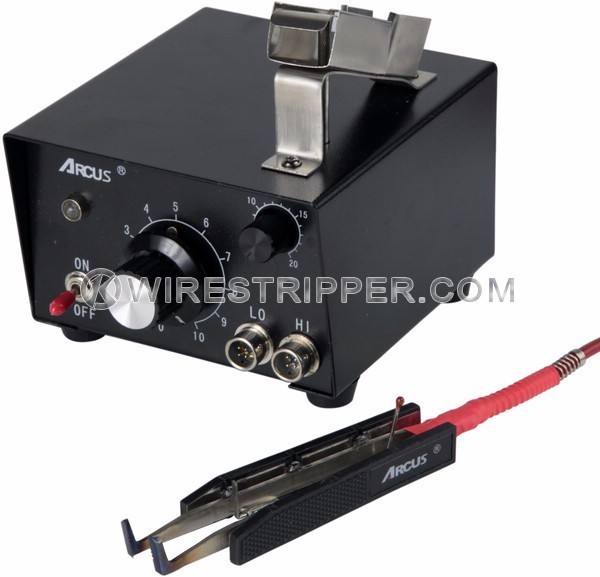 Power Supply: 220V 50/60Hz
Power Rating: 45W
Temperature Range: 130℃ - 860℃
Measuremnet: 120 × 110 × 70mm

Hot Tweezer Models:
Model & Wire Gauge
KS-E601
AWG (mm)
KS-E602
AWG (mm)
KS-E603
AWG (mm)
36 (0.15)
28 (0.38)
Flat Blade
Max. Ø6.3mm
32 (0.24)
26 (0.48)
30 (0.30)
24 (0.61)
28 (0.38)
22 (0.76)
26 (0.48)
20 (0.97)
24 (0.61)
18 (1.22)